Patent translation services
Why choose transeuro?
High quality ensured by translators with extensive experience and technical field expertise
Transparent pricing – Our translation fees include editing and proofreading
Translations that comply with national filing requirements and choose appropriate technical terms
Translation directly from the original to the target language
For more than 100 years our clients have put great trust into our translation services of German, English and Japanese patent documents. transeuro, inc. was formed from the translation department of a well-known law and patent office.
Patent translators with technical and legal knowledge
Patent translation is one of the most difficult tasks for a translator. Patent specifications use very specific legal and technical terms that need to be understood correctly and translated into the target language with an identical meaning. Especially in the patent claims every word is important, as translation mistakes could change the scope of the claims. A high-quality patent translation requires the translator to have a profound legal and technical knowledge in the specific matter to be translated.
Patent translation expertise in various fields
With 45 translators coming from diverse technical backgrounds, transeuro, inc. can offer patent and utility model translation services in a vast number of technical fields. We are familiar with each translator's expertise and will choose the perfect translator for your project.
Because of our long-term experience as translators of patent application filing as staff of the translation department of a law and patent office , we are able to provide high-quality translation in the field of patent law, in particular for patent applications (PCT national phase entry, EP validation or direct national filing), patent litigation & prosecution, and information purposes (translation of office actions, cited references, claims, arguments, amendments etc.), from German and English to Japanese and vice versa. Our translations comply with the national filing requirements and can be filed without further editing.
We can also easily handle translation and editing of drawings and figures.
For further information you can check our blog articles on patent translation.
Our translation services in numbers
2,424 projects and 7,200,740 words
translated in 2019.
| | |
| --- | --- |
| Ratio of translations per technical field | Ratio of translations per language |
| | |
Ratio of translations per technical field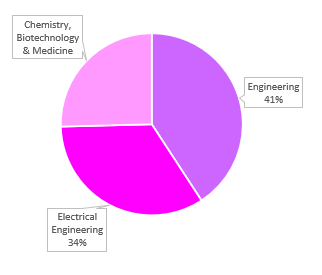 Ratio of translations per language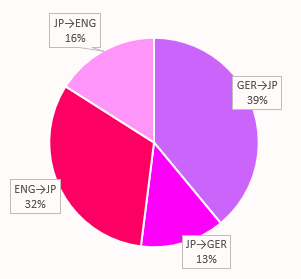 Languages
German
Japanese, English
Japanese
German, English
Documents
German, English Japanese
Patent specifications for direct filing in Japan or entering national phase, or for reference
Cited references in office actions
Instructions, proposals and comments from German/English-speaking applicants or attorneys
Office actions from patent offices in German/English-speaking regions
Publications
Claims, abstracts or other partial translation of rival patents for reference
Prior Art
Litigation documents
Japanese German, English
Patent specifications for direct filing or entering national phase in the German/English-speaking countries, or for reference
Cited references in office actions
Instructions, proposals and comments from Japanese applicants or attorneys
Office actions from the Japan patent offices
Publications
Claims, abstracts or other partial translation of rival patents for reference
Prior Art
Litigation documents
Technical fields
| | |
| --- | --- |
| Engineering | combustion engines, transmissions, couplings, printing machines, spinning machines, machine tools, molding, deforming, gears, rolling bearings, slide bearings, springs, connection technology (form closure, force closure, closure by adhesive force) hydraulic systems, pneumatics |
| Electrical Engineering | electric circuits, sensors, control, engines, semiconductors, computers, IT, optics, communication technology, information technology, fuel cells |
| Chemistry | organic chemistry, inorganic chemistry, industrial chemistry, physical chemistry, analytical chemistry, polymer material, electronic material, building material, metallic material |
| Biotechnology | recombinant DNA technology, protein-engineering, food biotechnology, regenerative medicine, micro-biology |
| Medicine | pharmaceutical chemistry, cosmetics, medical devices |